Symbols ❤ Emojis 😍 Fancy Font Generator
🔥 Copy paste cool symbols like ©, ™, €, °. Hot emoji ❤️, 🤦 , 👍. Easy fancy font generator to make a cool fancy font for Instagram, Twitter, Facebook.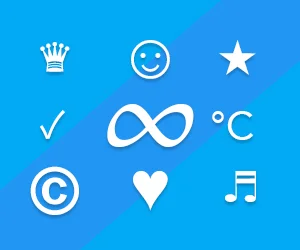 Explore the best collection of easy to copy-paste symbols and signs including heart symbol, checkmark symbol, the degree symbol, copyright symbol, trademark symbol, infinity symbol, and thousends of more.
Christmas Exclusive Emoji
🎅 Santa claus, ❄️ Snowflake, 🎁 Giftbox, 🦌 Reindeer, ☃️ Snowman, 🎄 Christmas Tree
Explore the hottest emoji ready to copy with one click including face emoji, people emoji, accessories emoji, birds & animal emoji, nature emoji, food emoji, activity emoji, place emoji, vehicle emoji, object emoji, country flags emoji, and thousends of more.
Fancy Font Generator allows you to generate hundreds of styles of hot fancy fonts that you can copy with one-click and paste on social media like Instagram, Facebook, Twitter, and more. Explore the most hot fancy font genrator which makes the hottest fancy fonts online for free.
About HotSymbol
HotSymbol is an elegant website to copy symbols, emojis with a single click. the easy user interface and superior user experience make the HotSymbol website different from other websites on the internet.
Symbols and Signs
HotSymbol the details of the Unicode, hex code, HTML code, HTML entity, CSS code, alt code of the symbols under your fingertip for thousands of symbols.
The generic collection of the symbols covers the copyright symbol, trademark symbol, registered symbol, infinity symbol, greater than a symbol, delta symbol, and degree symbol, ouroboros symbol. Explore all the arrow symbols.
The currency symbols collection includes the most popular currency symbols like the euro symbol, rupee symbol, cent symbol, pound symbol, dollar symbols, and many more. Explore all the arrow symbols.
The arrow symbols collection includes Directional Arrow symbols, Wavy Arrow symbols, arrows with loop, Squiggle arrow symbols, Tripple Arrow symbols, and arrows with a hook. Explore all the arrow symbols.
The math symbols collection includes popular symbols like an infinity symbol, angle symbol, integral symbol, because sign, star operators circled equals, and set symbols and signs. Explore all the mathematical symbols.
The number of symbols collection includes roman numbers of subscript numbers, rounded numbers, fractional numbers, and many more. Explore all the number symbols.
The punctuation symbols collection includes micro symbol, double low line symbol, undertie symbol, black bullet symbols, asterisk symbols, and many more. Explore all the punctuation symbols.
One-Click Emoji Copy Paste
Emoji Copy Paste tool to one-click copy & paste the various hot emoji without any app on Mobile OS like iOS, Android, and desktop OS like macOS, Windows, Linux, ChromeOS. Copy and paste emoji with ease for social media platforms like Twitter, Facebook, Instagram, Whatspp and many others. On HotSymbol the emoji are categorized as below.
Smiley emoji 😂
Body part emoji 💪
People emoji 🙋
Accessories emoji 🕶
Birds emoji 🕊
Animals emoji 🐅
Nature emoji 🌻
Food emoji 🍿
Sports & hobby emoji 🏈
Activity emoji 🚴
Place emoji 🗽
Vehicle emoji 🚕
Things emoji 🎉
Symbols emoji 💖
Country flag emoji 🇺🇸
Event emoji 🎃
Cat emoji 😹